Well we finally made it...Merry Bleeping Christmas to ya cool kats!
However Comrades this is perhaps the grimiest darkest Hoildaze period in years. I mean what with all the murder out in the world, and here in the Jolly Emerald City.
Sorry to bring all that up I know you know.
Me? ...same old routine. Seeing my doctors who tell me I'm still alive, and may stay that way for a while. This is better than before when I had one of tell me I had maybe 18 months left.
Yeah that go my attention okay.
However thanks to modern medicine, and Medicaid
I can enjoy a long somewhat golden retirement nightmare.
Swell. I actually think I liked that 18 month thing better. 'But that's just me. Seems I got treatment just in time. As my internal gut'n blood problems were in a downward cascade.
Thanks Dr. Chan for saving my life...I think.
What a gal!
I went to visit my dear sister yesterday. Had a nice brunch with her my brother-in-law, and a few of their pals. It nice to sometimes hang with folks that are in the real world, and doing stuff.
Seems my kid sister is getting all sorts of awards for her media projects. That BBC program she did about our family, and lynching in American hit home over there...not here mind you.
In Europe though her stuff is a hit.
Cool.
I had the same thing happen to me sort'a back in the day. My Queer Angel, and Faerie ink drawings simple art books were all the rage over in Europe back in the day.
Here no one would touch them.
Even the the only Queer bookstore in town just took a very few copies on consignment, but wouldn't put them on display.
You had to know about them, and specifically ask for the titles. If you didn't know all the titles they wouldn't tell you...swell huh?
"Land of the Free" my sagging butt!
I can't even afford copies of my work anymore. Single editions go for $200./300. buck s pop! Good grief. I think they think I'm dead.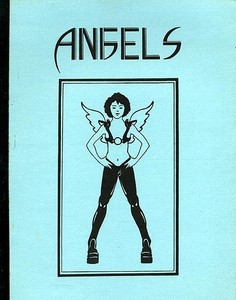 Klik op de afbeelding als je deze wilt vergroten
Details over

1978 Sidney Smith Bk Gay Art Uranian Lim Ed 200 SIGNED